Binex Inc.(Binex; Head Office: Akasaka, Minato-ku, Tokyo; Representative Director: Hiromichi Aoki)was conferred an Award for Excellence at the 8th Japan Resilience Awards 2022 ("Resilience Award") hosted by the Resilience Japan Promotion Council (Resilience Council; Location: Chiyoda-ku, Tokyo; Chairman: Michiaki Hirose, Chairman of Tokyo Gas Co.).
The Resilience Council was established to promote national land resilience by mobilizing the wisdom of the private sector in accordance with the June 2014 Cabinet decision on the Basic Plan for National Land Resilience. The Resilience Award is an organization which identifies, evaluates, and awards nation-wide actions which seek to build a resilient society for future generations. The award is open to companies and organizations that are engaged in "activities, technological development, product development, etc., that contribute to building a strong and resilient nation, regions, people and industries."
This year, Binex was awarded the prestigious Award for Excellence from among more than 100 entries from companies and organizations, in recognition of its contributions to community and environmental resilience.
For more details, please visit the Resilience Council website below.
「Japan Resilience Awards」
URL: https://www.resilience-jp.biz/award/
Commenting on the announcement, Hiromichi Aoki, Representative Director of Binex, stated:
Preceding full-scale sorghum cultivation in Peru, Binex has contracted land in Iwaki City, Fukushima Prefecture where we've been able to grow sorghum adapted to Japan's climate and soil and which sequesters large quantities of CO2. We are also working on the production of clean energy such as biomass pellets and biomass methanol utilizing sorghum residues (stems and leaves, etc.) leaving the edible grain for human and animal consumption. It is a great pleasure to know that our efforts surrounding "local production for local consumption" of food and energy, global warming countermeasures, and promotion of local communities have been highly evaluated by the Resilience Council such that we could be honored with an Award of Excellence at the 8th Japan Resilience Awards. Encouraged by this award, we would like to further accelerate our efforts towards SDGs and national land resilience.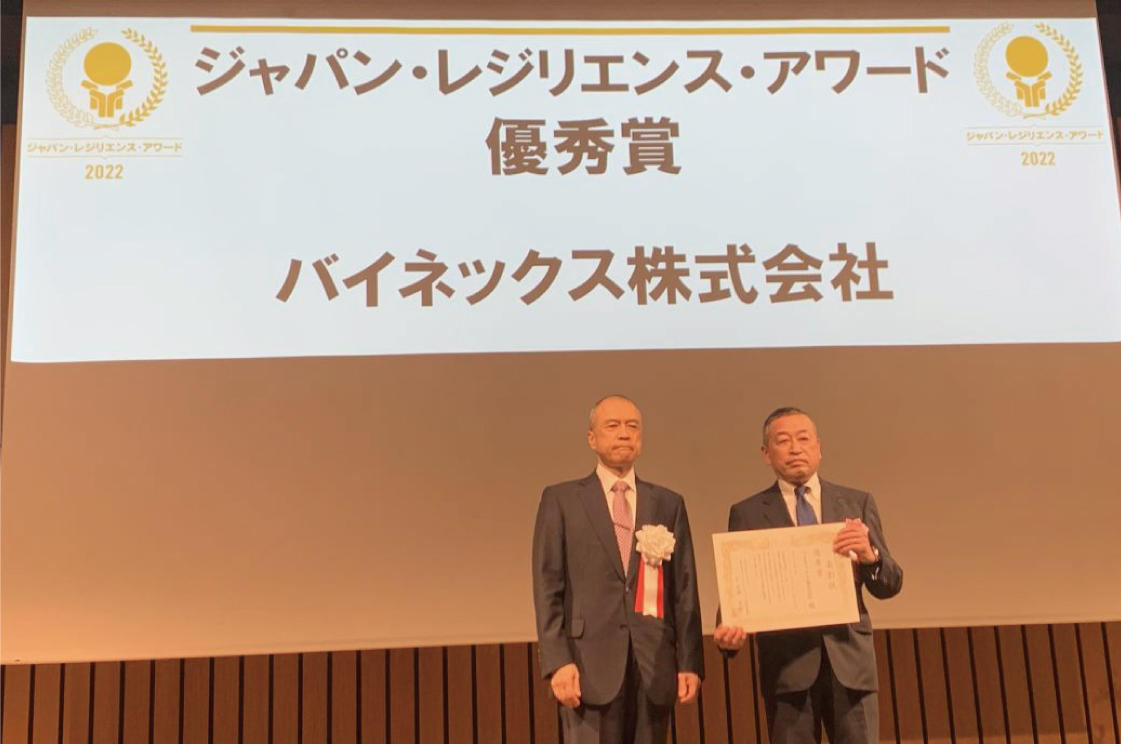 Left: Mr. Hirose, Chairman of Association for Resilience Japan (Director of Tokyo Gas) Right: Mr. Aoki, Representative Director of Binex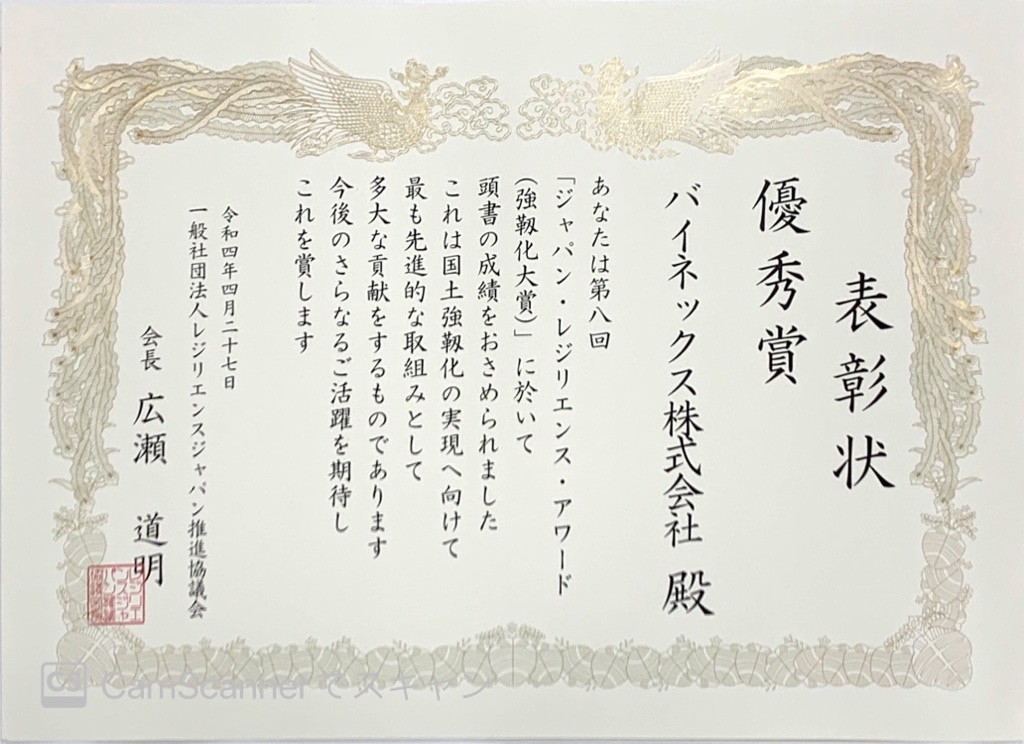 Binex will continue to work towards realizing its vision to "truly solve environmental, food, and energy problems and forge a future where human beings coexist with the natural world."
Binex Inc.
Binex was established to earnestly address food, environmental, and energy issues and construct a value chain for biomethanol. Binex aims to breed and cultivate sorghum varieties that sequester large quantities of carbon dioxide during growth; supply sorghum grain as a foodstuff; produce and supply biomethanol from sorghum residue such as leaves and stalks; provide fuel cells that use biomass methanol as a hydrogen carrier; utilize biofuel in semiconductor manufacturing, fuels for internal combustion engines, and petrochemical raw materials; and develop additional applications, including chemical products that replace fossil fuels with biomass-derived materials.
URL:https://binex.jp/